Overview
This article will show you how to use call highlights, and how to customize call highlight tags for your users. It contains the following sections:
With Spoke Phone's call highlights you can now easily capture something you or someone else just said on a call, so you can replay it in the future.
With call highlights, you no longer need to listen to the entire call recording just to extract one of two important things. Rather, you can simply play the highlights.
How to use call highlights
In order to use call highlights, call recording must be turned on for your company and the active call must be being recorded.
Follow the steps below to turn on call recording for your Spoke Phone account:
Log in as an administrator to your company's

Spoke Phone account portal

online.
Go to

other

>

advanced

Turn on call recording.
Once call recording is turned on, users will be able to highlight and tag important things said on calls.
Follow the steps below to record a highlight during a call:
If you hear something important during an active call, tap the highlight button on the Spoke Phone call screen.
OPTIONAL: Select a tag for the recorded highlight.
When you press the highlight button, Spoke goes back in time and makes a recording of the prior 30 seconds (or so) of the conversation. After the call is over you can play the short recordings (the highlights), and be reminded of exactly what was said.
Call highlight tags
You can (optionally) set up tags that help users categorize their call highlights. When a user creates a call highlight, they can be prompted to set a tag. When reviewing call highlights in the future, you can see the tag and listen to the recording.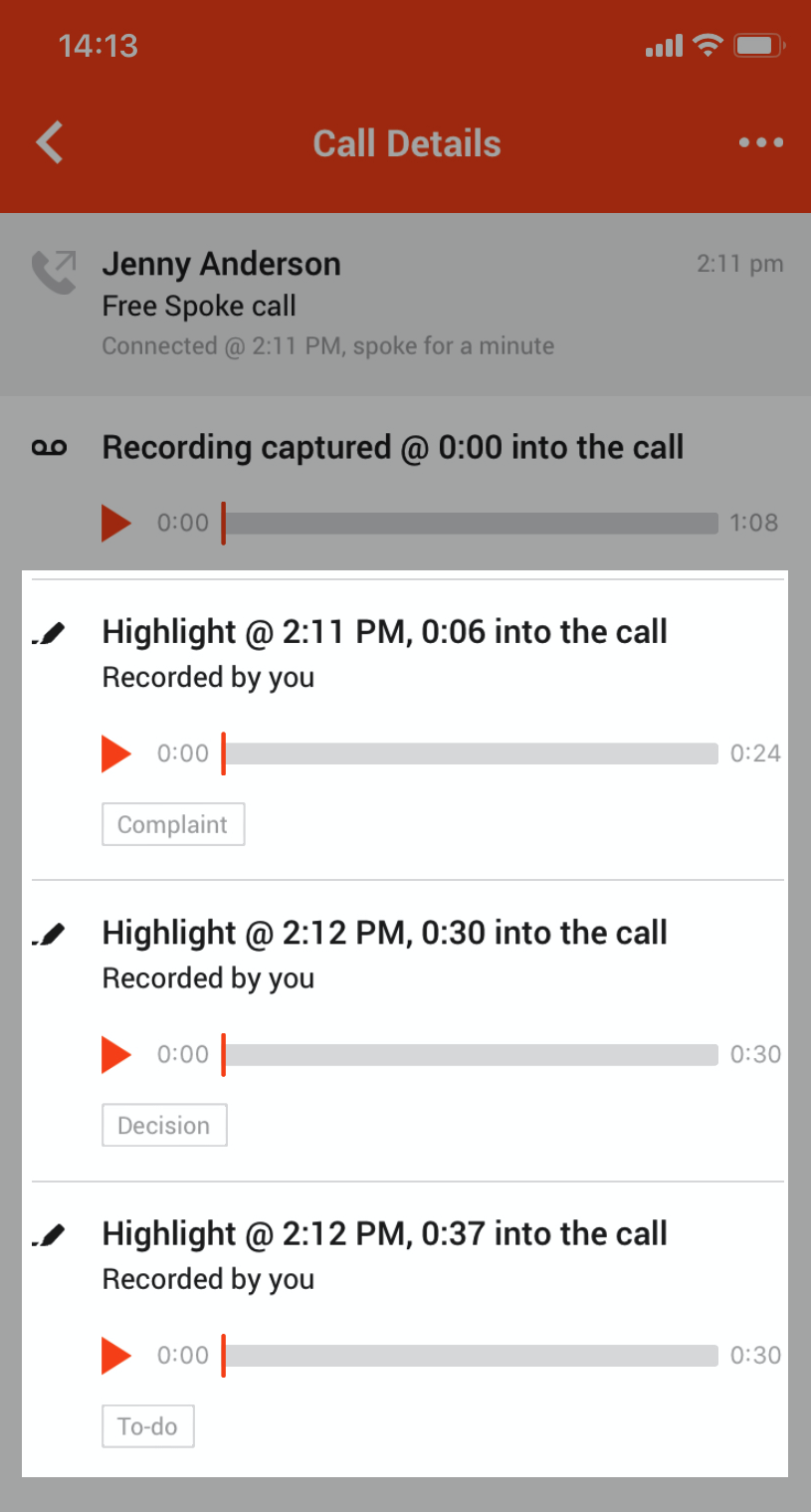 Setting up tags
Go to your

Spoke Phone account portal online.
Go to

other

>

advanced.
Scroll down to tags

and add the tags you want your users to choose from.
Click Save.
The order of the tags in the account portal is replicated on every user's Spoke Phone app.