Overview
This article provides an overview of the call history screen in the Spoke Phone mobile app. It contains the following sections:
What calls should I expect to see in my app Call History?
Call history on your Spoke app is similar to the native call history page of your Phone. It contains a record of all outbound calls you have made, all calls you have answered, as well as shared and direct calls that you have missed.
The most important thing to understand about using your Call History is the difference between missed team calls (calls to a team) and missed, direct calls (calls that are only for you).
Direct calls
Direct calls are any calls made directly to you (not offered to anyone else). This includes the following call types:
Calls to a DDI / DID (any phone number assigned to your user).
Calls to your extension number.
Direct calls from another Spoke Phone user in your organization.
Calls that have been answered by a colleague and manually transferred to you.
Your app Call History will show you any direct calls that you have answered, or missed. Direct, missed calls will not appear on anyone else's call history.
Team calls
Team calls are any inbound calls made to a team.
If you belong to a team, inbound calls to that team may or may not ring on your phone (depending on the availability of other members, and the calling rules for that team).
However, each member of the team will receive missed call notifications for missed, shared calls and each member will be able to see these calls in their app call history. This means that you may receive a missed call notification for a shared call, even if your phone did not ring.
Any member of the team can swipe on the call record and click the call button to return a missed, shared call.
Once the call has been returned, the call log for that missed team call will be updated in each member's call history:
The color of the phone number will change from red to black, signaling that this call no longer needs action.
The call log will show who returned the call and at what time the call was returned.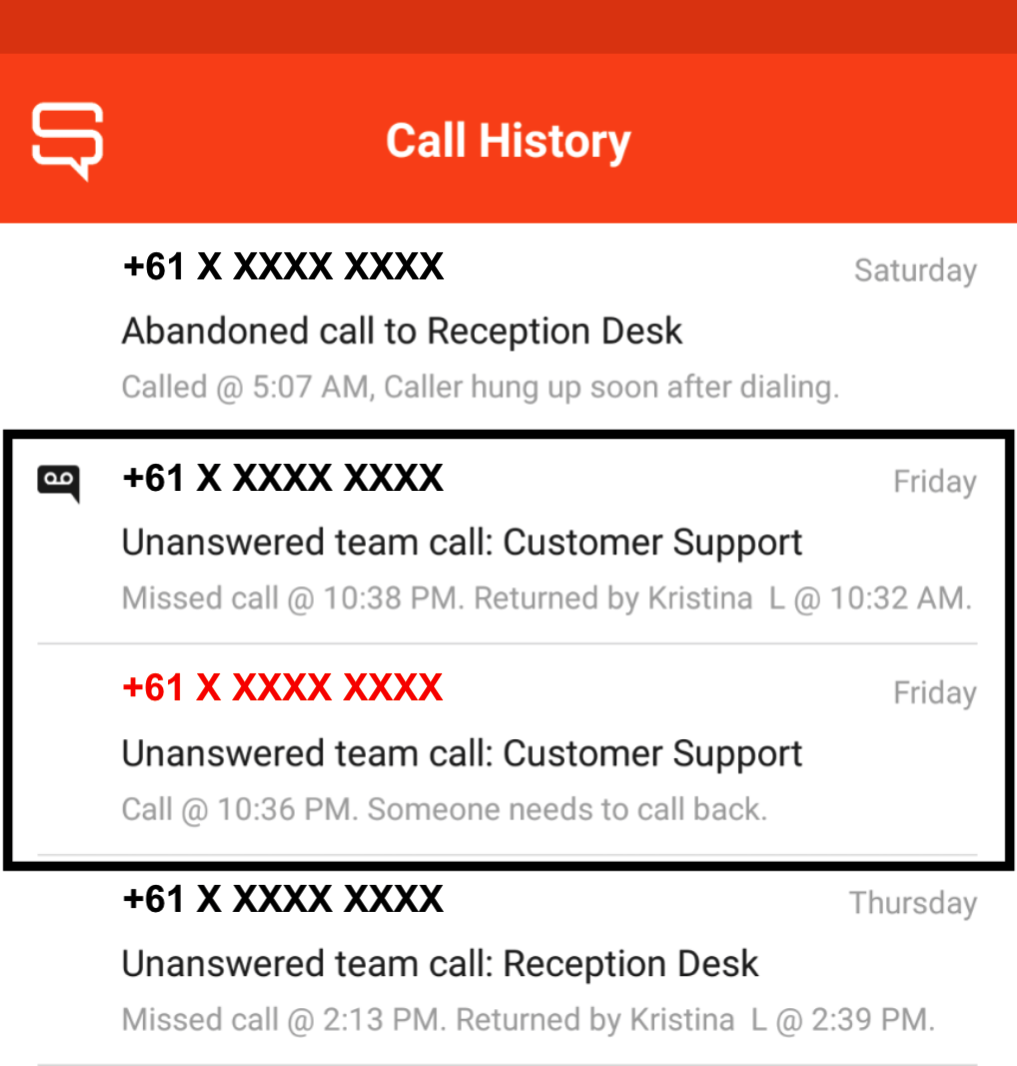 What if my call history doesn't refresh in time to show me the team call has been 
returned, and I try to return the same missed call that my colleague has just 
claimed and called back?

When you press the call button on a team missed call, if it has already been 
actioned, Spoke Phone will pop up a message to let you know that your colleague 
has already returned this call. Your call history will update so you can see who 
returned the call, and when.

To manually refresh your call history, swipe down on the call history screen.