This article will give users an overview of managing Twilio phone numbers when using Spoke Phone, and how to manage your Spoke Phone number portal. This includes the following sections:
Managing Twilio Numbers
The manage numbers page will display all the numbers you have on your Twilio and Spoke Phone account.
Phone numbers active only in your Twilio account will show the Twilio logo.
Phone numbers that are active on Spoke Phone display the Spoke Phone logo.

*Active Spoke numbers may be enabled for voice + SMS or just voice.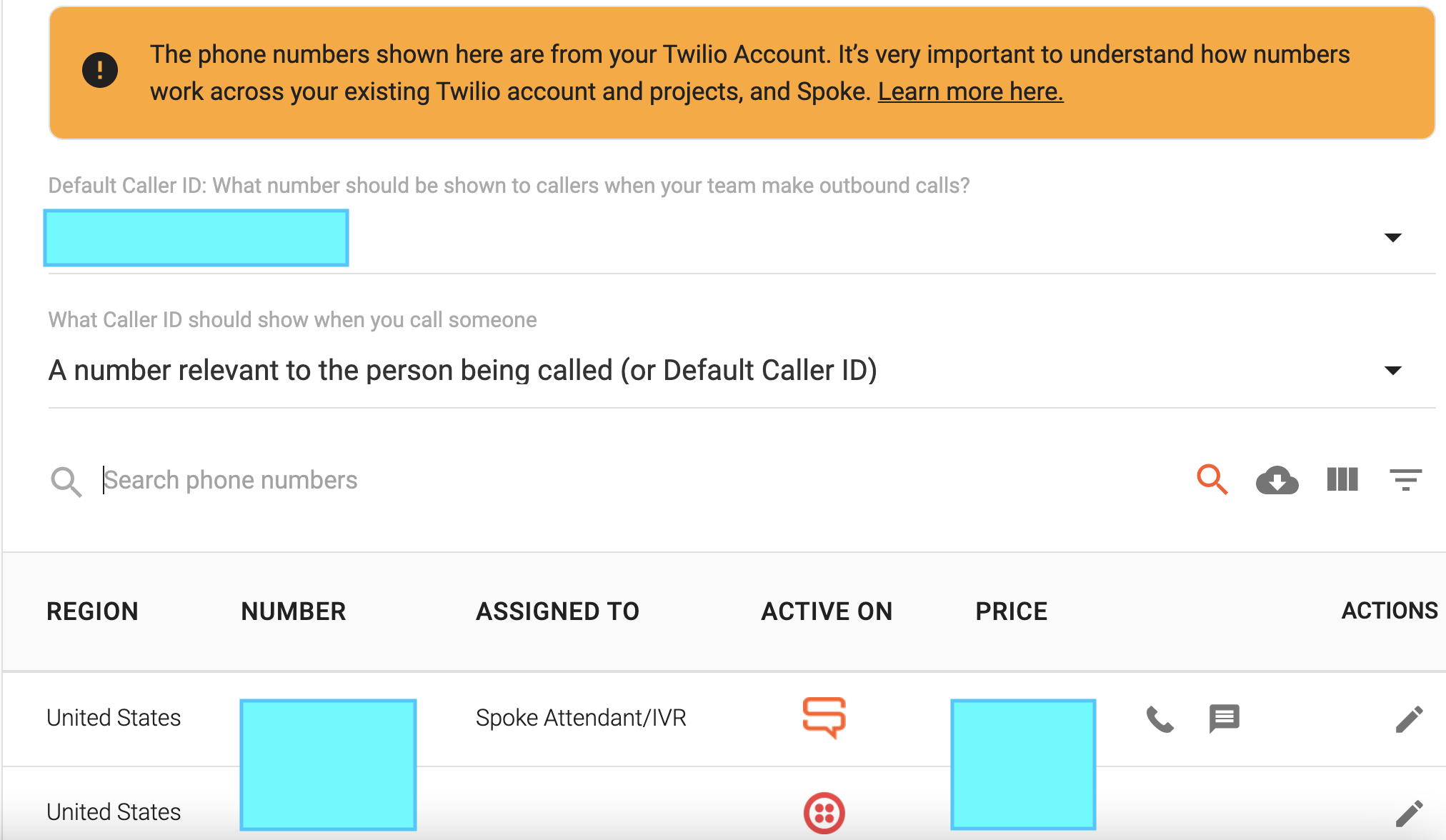 Buying new phone numbers
Numbers must be purchased from your Twilio Console. The Buy New Numbers option on the Spoke Phone admin portal redirects you to the 'buy a number' page on Twilio. All Twilio numbers will need to be activated in Spoke Phone.
Activating Twilio phone numbers
All numbers on your Twilio master/sub-account will be present, but not active on Spoke Phone. In order to activate Twilio numbers on Spoke Phone, you'll need to do the following:

Go to Phone numbers > Manage numbers
Locate the number to activate
Click on the pencil icon under Actions
Click Activate Number on Spoke
Click to services to activate or disable SMS messaging on Spoke, see below.

SMS Activation
Enabling SMS when activating a number Spoke will override any third-party SMS/messaging service used.
If you are using a third-party application for messaging/SMS, do not enable SMS when activating a number on Spoke Phone, choose only to activate Voice.
Editing/removing phone numbers
Numbers that are active in Twilio and Spoke Phone can be edited on the Spoke Phone portal. These numbers can be assigned to specific users, call groups, and IVRs- their extension numbers can be edited in the extensions section of the Spoke Phone portal.
Removing or deleting a number from Spoke Phone will not remove the number from Twilio, it will just remove its ability to be used on Spoke Phone. To re-activate this number follow the steps outlined above.