Overview
When calls are offered to Spoke users, their Spoke Phone app may be minimized or hidden behind other windows on their computer.
Spoke uses the Microsoft Windows native notifications feature to alert users when Spoke calls come in, and allow them to answer or reject those calls from the notification.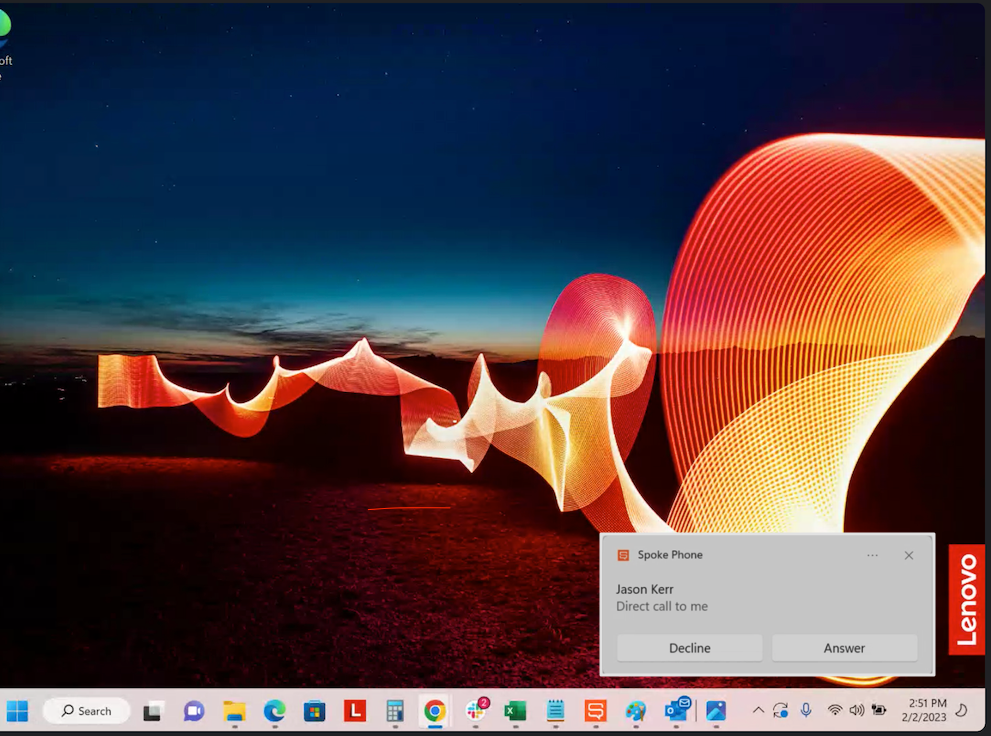 How Spoke's persistent call notifications should work by default
By default, the Spoke Phone notifications should work well without you having to change any settings on your Windows Notification preferences.
Here is how the notification should behave:
If Spoke is minimized or hidden behind other windows and you get a call on Spoke, the notification should popup in the bottom left (as above)
It should stay there for the entire time that the call is ringing
It should disappear if you do not answer the call (caller hangs up, call goes to voicemail, etc.)
If the notification does not operate in this way:
Select Start > Settings > System > Notifications.
Change notification settings
Select Notifications to expand it, find Spoke Phone, and tune the notifications, banners, and sounds settings.
The Notification will not show if you are logged out of Spoke or have closed the Spoke app.
How to set up persistent call notifications when in meetings or presenting slides in meetings or on calls in MS Teams, Zoom, Google, etc.
If you find that Spoke Phones call notification does not appear in some instances, it is usually because Windows thinks you want to focus and not be disturbed.
You can overwrite this behavior and tell Microsoft Windows to show you Spoke notifications at all times, by turning on a switch in your Focus Assist settings.
How to Set Up Focus Assist Priority only mode in Windows 11
Launch the Windows Settings app.
In the left pane of the Settings app, choose System.
Enable Priority only mode by clicking and expanding the Focus assist box.
Underneath, select the Customize priority list option.
Under the title calls, text, and reminders select the option you wish to enable while doing anything.

Show incoming calls, including VoIP.
Show reminders, regardless of the app used.

Under the title, People click add contacts option and add contacts you wish to get notifications from.
Under the title, Apps click Add an app option and add an app from which you want to get notifications.